Manhole Covers
Manhole covers are one point of entry into the city's underground world, and their designs indicate what part of that world they connect to. Here are some manhole covers that might help you identify pieces of the Internet.
Street Markings
Sometimes you'll see a manhole cover that is surrounded with colorful markings. Whenever a contractor or construction company plans to do street excavation, utility companies will mark out the location of their underground cables so that the contractor knows to watch out for them.
There's a federal color-code standard for sidewalk markings. Philadelphia follows that standard.
Orange refers to the broad catch-all of "Communications, alarm, signal lines, cables and conduit." This means that orange lines can be internet cables, television cables, telephone lines, or other kinds of conduits.
The markings are sometimes really sloppy, and often in fragments. Sometimes you'll see several different labels in the same place. A lot of these cables are bundled up together running through ducts under the city.
Various Antennas
Tracking things on the ground can sometimes be tricky--markings and manhole covers get worn down and faded, they're sometimes in the middle of the road, and it's easy to bump into things when looking down all the time. Here are some other objects that indicate pieces of the network.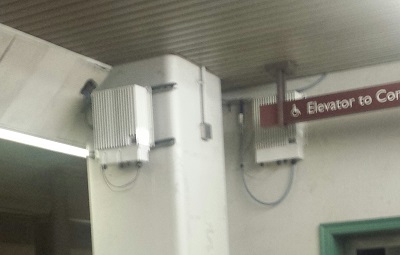 Distributed Antenna Systems
A Distributed Antenna System (DAS) is basically a way to expand a cell network's reach, adding capacity in under-covered areas. This blurry picture shows two units, both manufactured by JMA Wireless. One unit was also labeled "TEKO", a specific product line by JMA.
Kiosks
Some weird boxy-things on the street might let you interact with them. Kiosks generally have screens, buttons, or speakers to convey information to you or behave in a transactional fashion.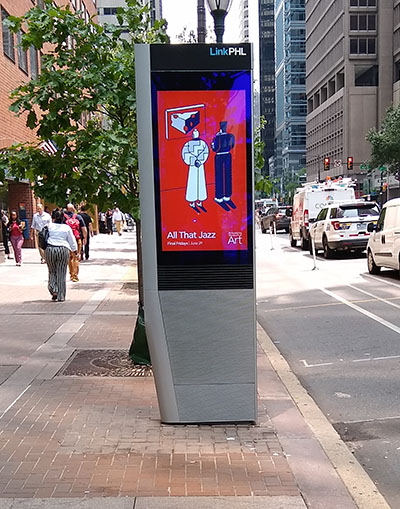 LinkPHL
Pronounced "Link Philly," these 9.5-foot obelisks provide free WiFI access, mobile device charging, phone calls, access to municipal and emergency services, maps and directions, and information for community events. They are created by the company Intersection (previously Titan), with investment from Google parent Alphabet. Each LinkPHL kiosk has three cameras, and microphones, among other sensors.
Sightseeing
There are few well-known locations that people tend to go to when they want to "see the Internet" in Philadelphia. Identifying these buildings when looking on the street is not always easy, but one telltale sign is to look for signs of ventilation and cooling systems. Alternatively, look for windows, or more accurately, the absence of them. (Note: on much larger buildings, in particular skyscrapers, vents also could just be a sign of a mechanical floor, the centralized space dedicated to maintaining utility needs for the entire building.)
New infrastructures have a tendency to inherit the homes of past infrastructures, and the Internet is no exception. Many of the major Internet exchanges and data centers of Manhattan are in buildings that used to be telegraph switches, telephone company headquarters, and other industrial spaces. While this is by no means an exhaustive list, these are a few interesting starting points from which you can start looking for cable markings, cameras, or other signs of Internet infrastructure.